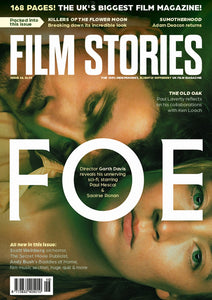 Introducing the revamped Film Stories magazine: now with 168 pages, our biggest issue by far - and the UK's biggest film magazine!
Printed on quality paper too, the new issue's allowed us to heavily expand what we cover, from the latest releases through to film music, physical media through to horror, big interviews through to retrospective features. Plus! Lots of new columns and regular features. 
In fact, this little lot...
Foe - A hugely ambitious science fiction film from the director of Lion, and Garth Davis tells us the story of how he managed to get it made.


Killers Of The Flower Moon shot by shot - A look into the beautiful cinematography of Martin Scorsese's latest, with the cinematographer himself.


Sumotherhood - Adam Deacon and Jazzie Zonzolo on making a legacy sequel.


The Old Oak - Writer Paul Laverty on his last collaboration with Ken Loach. 


Movie Cars - How do film productions get their vehicular needs met? We've been looking into it.


The Secret Movie Publicist - Who are they? We won't tell, but blimey do they have some stories.


Craig Fairbrass -

On the

Footsoldier

films and the changing gangster genre.


The Lesson - Director Alice Troughton on her feature debut. 


Shorts - An important stepping stone, and an art form in their own right. 


The Day After - The legacy of 1983's nuclear holocaust movie. 


1999 - Did this year in film predict a dystopian future?


LXG at 20 -

Is

The League Of Extraordinary Gentlemen

underrated?


The Nightmare Before Christmas - How Henry Selick's film became a billion dollar business for Disney. 


Underrated: Sean Connery - We pick out the actor's most underappreciated roles. 


West Cork Film Studios - The inside scoop on a brand new Irish film studio. 


Brand new horror section with Scott Weinberg - Horror expert Scott Weinberg gives us a look into the best horror films that are out this autumn - some of which you can already watch. 


Brand new film music section with Charlie Brigden - Expand your knowledge on the art of film scores


New expanded physical media section -

The Raygun

's Tim Murray pens our biggest ever physical media section - including the story of the original The Exorcist DVD release.


For the watchlist - The best spooky films for family-friendly viewing


Podcasting - Our column on podcasting, and in this issue we cover the importance of ratings and reviews. 


Streaming - The best films available on streaming services. 


Reviews -
We give some stars to films.


Simon Hickson -

Chats about double bills and portmanteaus.
The Big Quiz! - An all-new quiz section, featuring 50 questions to test your film knowledge.


Puzzles - you didn't think we got all serious about the quiz, did you? Nope, still plenty of picture-based puzzles in this magazine! 


Slaughter Allie - Interviews with the cast and crew of a new horror short.


Film Fashion - How one of cinema's most interesting costumes came to be.


The Strange Case Of Dr Jekyll and Mr Hyde - We interview director Hope Dickson Leach about her new adaptation. 


The Science Bit - Our technical column looks at the technicalities behind Technicolor.


Upcoming British films - What we can expect in 2024 and beyond. 


News interviews - Chatting to upcoming and established talent about their interesting new films. 


Film Books -

The best books about films and filmmakers that are coming out this autumn.
Shopping from 12th October...