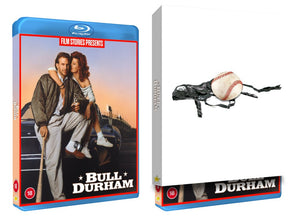 Film Stories is delighted to add our third release to our line of Blu-rays: the UK Blu-ray premiere of Bull Durham.

It's the first in the Kevin Costner-headlined trilogy of baseball movies, the mighty Bull Durham. With early breakthrough roles too for Susan Sarandon and Tim Robbins.
"This looks like a baseball story," says Film Stories' Simon Brew, "and an authentic one at that: a catcher at the end of his career, a rookie hotshot at the start of is. In the midst of them is a woman who chooses one player a season to be her lover. But the reason we talk about it over three decades later is the sizeable amount of magic dust sprinkled upon it: Ron Shelton's delightful script, a witty and energetic early performance from Tim Robbins, Kevin Costner's easy charm in the first of his three baseball movies, and Susan Sarandon coming in and threatening to rip the film from underneath them. It's funny, it's charming, it's firmly stood the test of time, Bull Durham pulls off the really hard trick of balancing sport with a very funny, very universal romantic comedy."
Shipping from October 23rd 2023.
UPDATE: Slight production delay: shipping from November 10th 2023
Disc details
Cert: 18
Year: 1988
Cat no. PLUM5
Chapters: TBC
Region: B
Picture: 1080p HD
Sound: 5.1 and Stereo Options
Audio Language: English
Subtitles: English
Aspect Ratio: 1.85:1
Disc Format: BD25
SPECIAL FEATURES*
• Audio commentary with writer-director Ron Shelton
• Audio commentary with Kevin Costner and Tim Robbins
• Film Stories podcast with Simon Brew
• English subtitles for the hard of hearing
• 5.1 and stereo audio tracks
*subject to change