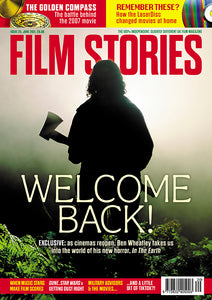 This is a DIGITAL PDF version of Film Stories issue 21. 
TECHNICALITIES: At checkout, you will be shown a download link straight away, which will also be sent on to you via email. This link - which can be forwarded on, if you so wish - will allow two downloads of the PDF version of the magazine from our site.
So, it's a great way to share a copy with someone you think may like it. 
Here's what's inside the issue...

* In The Earth: the story of how Ben Wheatley went from his planned Tomb Raider movie drifting away, to making a new horror film in under a year.
* The Golden Compass: how the 2007 movie lost its ways - and what happened next.
* Military advisors: what do they do? How do they do it?
* Dune, Star Wars, and the perils of getting on-screen dust just right.
* The disc that transformed home cinema
* Celebrating the underappreciated films of Laurel & Hardy
* The Wes Anderson Instagram account that really, really took off
* The joys of Cartoon Saloon
* 1969: the year the movie western changed
* Emma Butt: on working in post-production sound, and the journey to get there
* Signature: the story of the distributor that went from a room in London, to Los Angeles and over 1000 movies
* When music stars make movie scores
* And a lovely, lovely chat about Medicinema with Simon Hickson.
Plus!
* Andrew Macdonald, Diana Dors, Jennifer Sheridan, all about Film Stories' secret plans, TikTok (yep), launching a streaming service, and much much more!