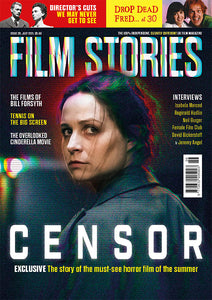 This is a DIGITAL PDF version of Film Stories issue 26. 
TECHNICALITIES: At checkout, you will be shown a download link straight away, which will also be sent on to you via email. This link - which can be forwarded on, if you so wish - will allow two downloads of the PDF version of the magazine from our site.
So, it's a great way to share a copy with someone you think may like it. 
Issue 26 of Film Stories shipped in June 2021. And here's what's inside...
* Censor: we dig into the must-see British horror movie of the summer, as we found out all about Censor in our big lead feature
* The director's cuts that we'll never get to see: the stories of the movies with alternate cuts destined not to see the light of day
* Drop Dead Fred at 30: with the help of its director - Ate de Jong - we revisit the Rik Mayall/Phoebe Cates-headlined 1991 comedy, and its serious undercurrent.
* Anyone for tennis? A look at how the sport is represented on the big screen, just in time for Wimbledon. It's almost as if we knew...
* Romesh Ranganathan on jump scares, and heading back to the cinema
* Isabela Merced: she's one of the best young actors working in Hollywood, and she's been chatting to us for our new issue.
* Reginald Hudlin: in an exclusive interview, a look through his directorial work, right through to his new film
* The Father & dementia: a personal response to a challenging movie
* The overlooked Cinderella movie: who remembers The Slipper & The Rose?
* Miles and miles and miles of costumes: we find out all about the legendary costume firm Angels
* Neil Burger exclusively chats to us about his new movie, the sci-fi feature Voyagers
Plus! Female Film Club, Sunflowers, the videogames heading to the movies, a new short film starring Himesh Patel, a whole host of reviews and much much more!