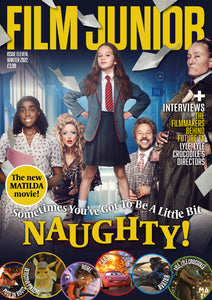 It's Film Junior issue 11 (Winter 2022). It's the print film magazine aimed at young film fans - and lots of it is written by them too!
The magazine is aimed at film fans aged 7-14, and the films covered within it are certificates U, PG and 12A.
Inside: 
Meet the new Matilda! Our young reporter chats to Alisha Weir, the star of Roald Dahl's Matilda - The Musical!
Future TX! The filmmakers behind the British live action family movie have been telling us all about it.
Lyle, Lyle Crocodile: yet another interview with one of our brilliant reporters! This time, the directors of the film tell us more.
Plus!
All about Home
Talking about the Cars films
Streaming services vs Cinema
International film in focus
Visual effects on a budget!
What does a first assistant director do?
Why Detective Pikachu works so well
Film scores: getting started!
And more!
And lots, lots more!