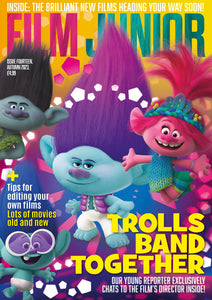 The print film magazine for young film fans - and it's partly written by them too!

Inside...
Trolls Band Together: Our young reporter chats to director Walt Dohrn about making the third Trolls film, and what it's like voicing one of the characters!
The dark side: Are children's movies getting darker, and is that a good thing?
What's coming up? - All the most exciting films coming your way soon.
New! Director Focus - Learn all about a famous director from the past - this issue focuses on Billy Wilder.
Fantastic Mr. Fox - A look into Wes Anderson's wonderful animated film.
Plus!
Gran Turismo
How to edit your own movies
Evolution
How franchises have changed over time
Which Legend Of Zelda game would make a good film?
Puzzles
The latest film news
The movies of 2013
Film fashion
And classic and international movie recommendations.
-----