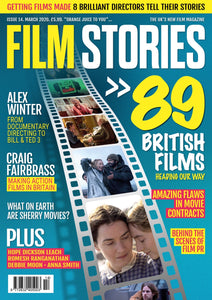 89 British films heading your way over the coming months and years
8 brilliant directors tell us their stories of making films – and how you can too
Alex Winter might be best known as half of Bill & Ted – but he's also an accomplished documentary maker. Exclusive interview.
Craig Fairbrass chats to us about his latest film, and making action movies
We speak to a man who managed his local Odeon for 30 years. He has stories…
Is movie marketing now incapable of selling mid-budget films? And how can more challenging films break through?
How Tommy Lee Jones make full use of a lazily-put-together movie contract – and other contractual tales
Sherrymovies: how one studio head pushed mainstream films with women at the heart of them
Jaw-dropping stories from behind the scenes of movie PR
Movie making-of books in focus
Women and sport in the movies
And lots, lots, lots more. Plus, amongst the 20+ paid writers in this issue, six are getting their first ever paid print writing work.