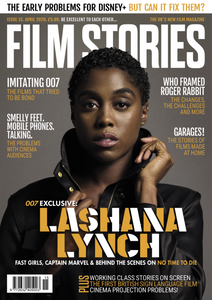 Preorder the new issue of Film Stories now, due out on March 26th 2020. Thank you.
INSIDE
* Lashana Lynch exclusive: from Fast Girls and Captain Marvel, to behind the scenes on No Time To Die
* The films that tried to imitate Bond
* Result of our big survey into behaviour by cinema audiences. The smelly feet story is horrible.
* When cinema projection goes wrong
* The problems facing Disney+ as it launches in the UK
* Who changed Roger Rabbit?
* The link between Real Genius and L A Story
* The behind the scenes story of Pihu
* Films made in garages
* Working class Britain on screen
* Climate change and film production
* The first movie made in British Sign Language
* Simon Pegg on his latest movie
And much, much more.