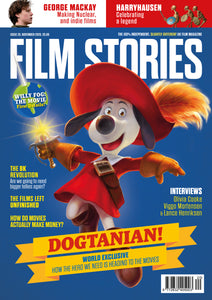 This is a DIGITAL PDF Edition. 
At checkout, you will be shown a download link straight away, which will also be sent on to you via email. This link - which can be forwarded on, if you so wish - will allow two downloads of the PDF version of the magazine from our site.
So, it's a great way to share a copy of Film Stories with someone you can't see in person right now, or who you think may like it. 
The jam-packed 20th issue of Film Stories includes...
* EXCLUSIVE! 80s legend Dogtanian & The Three Muskehounds is heading to the movies - and we've got the full story. PLUS! First details on the Willy Fog film too.
* OLIVIA COOKE: The awesome actor tells us about the path from Oldham to Hollywood - and the power of saying no
* GEORGE MACKAY: Another awesome actor, as he tells us about his new film, indie movies, and the importance of the Gladiator DVD.
* RAY HARRYHAUSEN: The legend celebrated, with a behind the scenes look at a brand new exhibition
* VIGGO & LANCE: Messrs Mortensen and Henriksen tells us all about Falling.
* Are we all going to need 8K tellies soon?
* Jonathan Demme, and his important journey from Silence Of The Lambs to Philadelphia
* The man behind the British Urban Film Festival
* Films that were never finished
* How do movies actually make their money?
Plus! Marc Munden, Harry Macqueen, Helen Simmons, Cartoon Saloon, a new letters page, Romesh Ranganathan, Debbie Moon, Hope Dickson Leach and a cake with a picture of that fella from The Room.