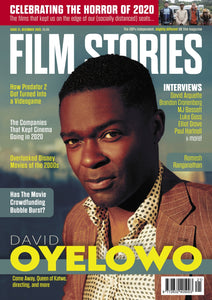 This is a DIGITAL PDF version of Film Stories issue 21. 
At checkout, you will be shown a download link straight away, which will also be sent on to you via email. This link - which can be forwarded on, if you so wish - will allow two downloads of the PDF version of the magazine from our site.
So, it's a great way to share a copy of Film Stories with someone you can't see in person right now, or who you think may like it. 
It's a jam-packed issue - the last issue of 2020 - and inside you'll find...

DAVID OYELOWO: Not only is he here to save cinema with four new films, but he chats to us about Come Away, Queen Of Katwe, and his move into directing.
THE HORROR OF 2020: Celebrating the films that burst through in what turned out to be 'a bit of a year'
DAVID ARQUETTE: A big chat about wrestling. And making a movie about wrestling as well. Naturally, we dug out, er, 'cutting edge Scream 5' information (wouldn't buy the magazine off the back of the Scream 5 stuff tbh)
THE HEROES OF CINEMA: Whilst most big studios packed up and left when it came to cinemas in the second half of 2020, we speak to the independent distributors who kept fighting.
OVERLOOKED DISNEY MOVIES OF THE 2000s: A salute to the Treasure Planets, Lilo & Stitches and Emperor's New Grooves of the world.
TURNING PREDATOR 2 INTO A VIDEOGAME: How was it done? And how close did we come to an Edward Scissorhands videogame too?
BRANDON CRONENBERG: On making Possessor, his acclaimed new movie.
LUKE GOSS: On making The Loss Adjuster, and becoming the senior figure on set.
M J BASSETT: On Rogue, on giant animals, and on landing Megan Fox for her movie.
PAUL HARTNOLL: On making music, scoring Concrete Plans, and a bit of Doctor Who.
ELLIOT GROVE: On Raindance, and helping new filmmakers.
HAS THE CROWDFUNDING BUBBLE BURST?: And has Veronica Mars got much to answer for?
Plus! ScreenSkills, Debbie Moon, Hope Dickson Leach, how indie filmmakers got their films made, your letters, arts & crafts, and when Romesh let us kids watch Jurassic World. And a lot, lot more...