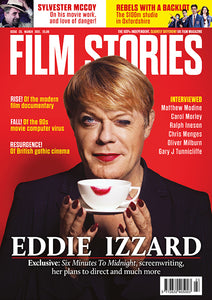 This is a DIGITAL PDF version of Film Stories issue 21. 
TECHNICALITIES: At checkout, you will be shown a download link straight away, which will also be sent on to you via email. This link - which can be forwarded on, if you so wish - will allow two downloads of the PDF version of the magazine from our site.
So, it's a great way to share a copy with someone you think may like it. 
The March 2021 packed issue of Film Stories magazine - our 23rd! - contains the following nuggets:
Eddie Izzard exclusive: she chats to us about her new film Six Minutes To Midnight, which also marks her screenwriting debut. Plus: her plans to direct, and a whole lot more.

Sylvester McCoy: tells us about his movie career, The Owners, and the time he presented a live TV programme whilst the studio was on fire.

Rebels with a backlot: the story of how Rebellion - best known for videogames and comics - is heading to the movies, with the help of its $100m Oxfordshire film studio.

Documentaries - a new golden age: a look at the current state of film documentaries, and why they're currently soaring.

Matthew Modine: tells us about the new Wrong Turn movie, with a dab of Full Metal Jacket and Cutthroat Island too.

British gothic cinema: the filmmakers involved in its resurgence tell us about their movies.

Creation Stories: getting the music rights for the incoming movie.

Adventures in Die Hard: the story of a man who rang 20th Century Fox from a London phone box to pitch his Die Hard sequel - and what happened next.

Movie viruses: how computer malware became a Hollywood plot point in the 1990s.

Victorian cinema: taking the movies right back to the 1890s...

Movie musicals: a preview of what's coming

Plus! Interviews with Gary J Tunnicliffe, Carol Morley, Ralph Ineson, Oliver Milburn and Chris Menges.

And a whole lot more...