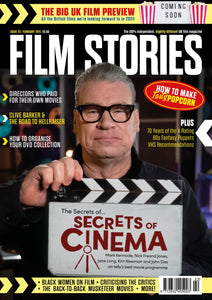 The first issue of Film Stories magazine for 2021. And it's issue 22. And it's jam packed!
Here's what's inside...

Secrets Of Cinema exclusive: Mark Kermode and the team take us behind the scenes of the best film show on television
The huge 2021 movie preview: only thing is, with our preview, it's all British movies. Loads of 'em!
Directors who paid for their own movies: if you can't get a studio to back your feature? No worries. Meet the high profile filmmakers who paid the bill themselves.
Black women on film: a look at how things have got to where they are – and how much further there is to go
Cookery: yep, a cookery page! Make better cinema snacks!
How do you organise your DVD collection? The pros and cons of various methods…
70 years of the X certificate: why it was introduced, and how it affected 1950s UK cinema
Back to back! How the Musketeers movies of the 70s saw two films being made at once – even if nobody told the filmmakers.
Criticising film critics: what does the recent Wonder Woman 1984 review backlash tell us?
Puppets! Saluting the amazing creations for 1980s fantasy movies.
Clive Barker on film: the rocky road to Hellraiser
Oh heck, and so much more. We really hope you like it!