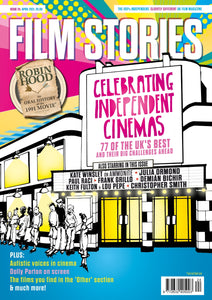 Issue 24 of Film Stories is now available for preorder. Here's what's inside the issue...
UK independent cinemas special: 77 of the best from around Britain, and the challenges that indie cinemas face over the coming months.
The oral history of 1991's Robin Hood movie (but not that one): Patrick Bergin, David Morrissey and more chat to us about the Robin Hood that wasn't Prince Of Thieves
Kate Winslet: on her new film Ammonite, making movies in the cold, and breaking into the industry.
Frank Grillo: on his new indie movies, reuniting with Joe Carnahan, and a whole lot more.
Paul Raci: he chats to us (about Sound Of Metal), he gets Oscar nomination. There's a lesson for actors in there somewhere.
Dolly Parton: we don't interview Dolly, but we are celebrating her film work in this issue.
Autistic voices in cinema: how to get them amplified, as well as, well, what not to do.
The movies in the 'other' section: the DVDs that ended up shoved into the corner in HMV.
Problematic stars: when we learn of a creative whose behaviour has been troubling, do we still watch the films and shows they were involved in?
Movies of the saucy 60s: fruity films from an era where, well, they were getting fruitier.
Music documentaries: when major directors not necessarily known for making documentaries start making, well, documentaries.
Plus! Julia Ormond, Christopher Smith, Trapped By Plastic, the company helping filming keep going in these new times, how to cook some tasty treats and a Gerard Butler maze.
And a whole lot more!