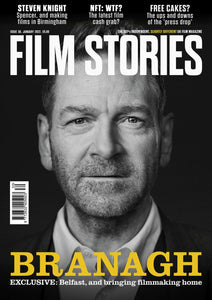 This is a DIGITAL PDF version of Film Stories issue 30. 
TECHNICALITIES: At checkout, you will be shown a download link straight away, which will also be sent to you via email. This link - which can be forwarded on, if you so wish - will allow two downloads of the PDF version of the magazine from our site.
So, it's a great way to share a copy with someone you think may like it. 
Inside:
* Huge exclusive Kenneth Branagh interview, as he takes us into the making of his most personal film to date, Belfast.
* Steven Knight on the aftermath of Spencer, and his plans to bring filmmaking to the West Midlands.
* Will Sharpe on The Electrical Life Of Louis Wain, and framing cats in 4:3
* NFTs - WTF? A look at the world of the non-fungible token
* The press drop: we dig into the trend for sending journalists free movie swag in return for social media promotion
* Director Sara Sugarman on her journey from Wales to Hollywood, and back again with Save The cinema
* Filmmaker Chin We tells us the story of her latest film, and what she's up to with her work
* Does Lucasfilm still want to make Star Wars movies?
* The difficulty of watching violence on the big screen – and how it can make women feel unsafe in the cinema
* The story of Don Dohler and Cinemagic magazine
* How many times do you see that a film is in some way based on a true story? But we wonder how truthful that is…
* Screenwriter James Moran begins his new writing workshop series
And lots, lots, lots more!