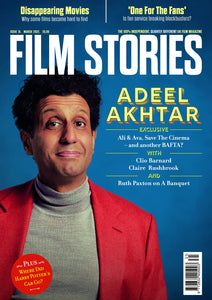 Shipping end of February 2022. Here's what's in issue 31 of Film Stories!
ADEEL AKHTAR
The co-star of Ali & Ava in a big exclusive chat, that touches on his anxieties of filming, wine with writer/director Clio Barnard, and his utterly leftfield performance in Save The Cinema too.
CLAIRE RUSHBROOK
There's no Ali & Ava without Claire Rushbrook's brilliant Ava – and she's been chatting to us too, along with…
CLIO BARNARD
One of Britain's finest filmmakers tells us about her latest film, and why she filmed it where she did...
Plus!
Why are some films not available anymore? Why do they keep disappearing?
The rise of 'one for the fans' in blockbuster cinema
When movie studios cooperate with the military
The low budget sci-fi gamechangers
Accessible screenings in the UK: are things finally getting better?
The DVD store in France that's still, somehow, going strong
Where did Harry Potter's car go?
The Prism of Race: Jamal Franklin on his trilogy of films
Ruth Paxton: the brilliant director of A Banquet takes us into her film
D is for Documentary: how a terrific film all about Sesame Street came together
James Moran's writing clinic
All new puzzle page that's moved on from the regular Geostorm feature!
Lots of reviews!
Lots more interviews!
Lots of odd films we think you should watch!
And an odd bit of movie merchandise…

Plus! Amongst the 20+ paid writers in this issue, three are getting their first ever paid print writing work.
We can only do this with your support, and thank you so much.