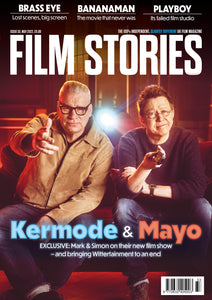 Shipping from mid-May. Inside...
EXCLUSIVE: Kermode & Mayo return: Mark and Simon tell the story of deciding to end Wittertainment, the final show, and the start of Kermode & Mayo's Take…
Martina Sirtis: on The Bezonians, Star Trek and her acting career
The Man of Peel: where did the Bananaman movie go?
The Brass Eye tapes: the TV series that the tabloids hated, and the film that's brought its story to life
When Playboy made movies (not that sort): and how its studio fell apart
When musicians make movies about themselves – and take potshots at the industry too
Spire Animation: Karen Disher tells us about moving from Blue Sky to something
The films that were lost to the 2007-8 financial crash
Film distributors: how do they work, and who are the companies who get the films to us?
Hellraiser: the film and its legacy, 35 years on
Olivia D'Lima tells us about her short film Beige
Plus!
Writing workshop with James Moran
Lots of films to add to your watchlist
A revamped puzzle page!
Lots of reviews!
Movie clinic
Your letters and thoughts
And even more interviews too!
And! Amongst the 20+ paid writers in this issue, two are getting their first ever paid print writing work.
We can only do this with your support, and thank you so much.