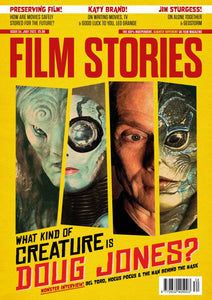 Shipping from mid-June. 
Inside....

MONSTER EXCLUSIVE INTERVIEW: Doug Jones tells us about his career, the creatures he's helped bring to life, Guillermo del Toro, Hocus Pocus and a whole lot more.
KATY BRAND: on writing Good Luck To You, Leo Grande, and how the film came together. We interview Daryl McCormack this very issue too.
CHA CHA REAL SMOOTH: Cooper Raiff is in his 20s. His latest film sold for around $15m at Sundance this year. And it's coming to Apple TV+ this month. He tells us the story.
KEEPING IT SAFE: where is film actually stored? Who's keeping it in tact? What's been lost?
BRIAN & CHARLES: the tale behind the brilliant new British movie
INDEPENDENT ANIMATION: looking beyond the Disneys, Pixars and DreamWorks
MAKING THE LOST GIRLS: Livia De Paolis tells us about making a very different spin on the Peter Pan story
JIM STURGESS: in a huge interview, he talks to us about starring in Katie Holmes' new film, Alone Together, and his time making Geostorm
JACK GOESSENS: finding out all about his acclaimed new film, and what he's up to
DÉJÀ VU: are streaming platforms repeating the mistakes of Hollywood past?
PLUS!
Writing clinic with the mighty James Moran
Our film stories: two independent filmmakers tell us their journeys
Reviews: there are films we really like this issue!
Things for the watchlist
Puzzles!
Movie clinic!
The letters page!
More interviews!
And lots more!