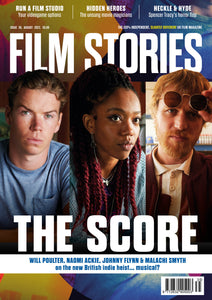 Shipping from end of July....
Inside....

THE SCORE: The story of a bold British independent film. We speak to Naomi Ackie, Johnny Flynn, Will Poulter and writer/director Malachi Smyth about a crime heist... musical?!
MANAGE YOUR OWN MOVIE STUDIO: We dig out the computer games that let you.
JAMES BOND AND ITALY: Why do the 007 films of the 21st century keep heading to the same country?
TALES OF A WESTERN LEGEND: Michael McGreevey tells us his film stories
SPENCER TRACY: When the legendary actor tackled Jekyll & Hyde. It turned into quite a story…
FROM HERNE HILL TO HOLLYWOOD: The pioneering career of Ida Lupino

THE SHORTS RENAISSANCE: Rita Osei on short films – and her short story
HE MADE THE DEATH STAR! Celebrating the hidden heroes of Hollywood
YOU WOULDN'T STEAL A CAR: The state of modern movie piracy
DISTINGUISHED DRAG: Britain's oldest drag artist – and a documentary feature
A MOTHER'S FURY: Siobhan Fallon Hogan tells us about her new film…
PLUS!
Writing clinic with the mighty James Moran
Our film stories: two independents tell us their journeys
Reviews: there are films we really like this issue!
Things for the watchlist
Puzzles!
Movie clinic!
The letters page!
More interviews!
And lots more!