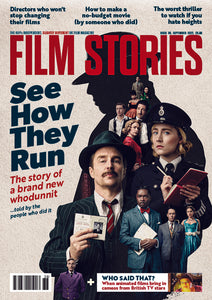 Shipping now...

Inside....

SEE HOW THEY RUN: A brand new British whodunnit - and its a real treat! We dig into the story of the film that's giving Knives Out more than a run for its money.
DIRECTORS WHO WON'T STOP CHANGING THEIR FILMS: It's not just George Lucas. We highlight the filmmakers who keep going back to the movies, and why...
MAKING A NO BUDGET MOVIE: Ever wanted to try? We've got a full guide in this issue!
YIKES: Fall is not a film for those who don't like heights. Turned out the making of it was quite a challenge too...
DO NOT ADJUST YOUR SHREK: Examining the trend for re-recording animated movies with voices from British TV stars, for little cameos
THE REAL 007: The on-screen portrayals of Ian Fleming.
THE NEXT FRONTIER: The remastering of Star Trek: The Motion Picture, and the stories behind it.

CAPTAIN BUDGET: The man who set out to be the lowest-cost producer in Hollywood.
UNRAVELLING THE MYSTERY: The Stranger In Our Bed is a brand new thriller - and Bart Edwards has been telling us all about it...
FILLING THE GAPS: Is there a different way forward for Hollywood franchises than 'legacy sequels'? We've had an idea...
PLUS!
Writing clinic with the mighty James Moran
Our film stories: two independents tell us their journeys
Reviews: there are films we really like this issue!
Things for the watchlist
Puzzles!
Movie clinic!
The letters page!
More interviews!
And lots more!