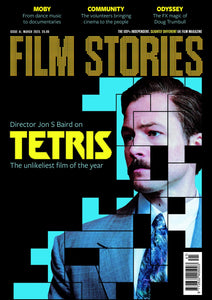 Amongst the features inside the issue...
Ready player one? - The story of Tetris– in a movie? Director Jon S Baird explains more...
Changing tunes - When pop stars tried their hand at acting –to varying degrees of success.
Trumbull's space odyssey - As 2001: A Space Odyssey turns 55, we look at special effects genius Douglas Trumbull's contribution.
Rahul Kohli - We get the Midnight Mass star talking about the film Next Exit, not seeing himself as famous and getting off Twitter.
Neighbourhood watch - As local cinemas close, we look at community-run alternatives.
More interviews! Moby on his new documentary, veteran actor James Cosmo chats about My Sailor, My Love, and director Raine Allen-Miller and her leads on very British rom-com Rye Lane. 
Plus!
The Science Bit: our new technical column covers video acquisition and delivery. 
My film story
Reviews! We cover two Mia Goth films in this one. Two!
Things for the watchlist
Puzzles!
Movie clinic!
The letters page!
More interviews!
And lots more!