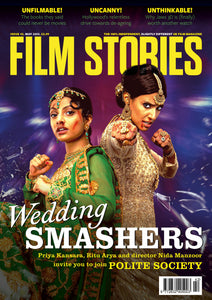 Amongst the features inside the issue...
Polite Society - It's a brilliant new British action film, and we've been chatting to director Nida Manzoor and stars Priya Kansara and Ritu Arya all about it!
Filming the unfilmable - The books that were never supposed to make it to the screen.
The Pen-hires Stroke Back - How's that for a pun? Er, anyway. The threat of strike action looms over Hollywood, and we've been looking into why...
After Antiviral - Brandon Cronenberg discusses new horror Infinity Pool and getting back into filmmaking.
Jaws 3D! - We've been chatting to its director, and questioning whether it's a sequel that deserves another bite. Arf.
Digital de-ageing - Ahead of Indiana Jones 5, a look into what might be becoming Hollywood's favourite new toy.
The Bursting Bubbles Of Modern Cinema - Is everything going wrong?! Or is hope on the horizon, that doesn't involve blue people?

Hiring a cinema - How much? How do you do it? What can you do? 
Breaking down barriers - Writer/director Shamim Sarif on overcoming divisions and her new film Polarized.
Plus!
The Science Bit: our technical column covers output.
My film story
Reviews! New films! Some of them are good, too!
Things for the watchlist
Puzzles!
Movie clinic!
The letters page!
More interviews!
And lots more!