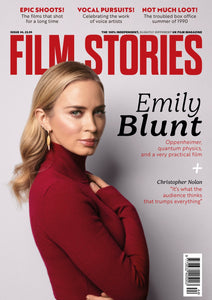 Shipping shortly.
EMILY BLUNT
Huge new interview: chatting Oppenheimer, a bit of quantum physics, and working on such a secretive movie.
CHRISTOPHER NOLAN
Chats to us about finishing off his new film, the insecurity of releasing it into the world and a whole lot more...
EPIC SHOOTS
The days when film shots for 100 days or more - and some legendary productions...

VOICE ARTISTS
The secrets of lending vocal talents to productions, in our voice artists special.
THE BOX OFFICE BONFIRE OF 1990
The summer that stopped Hollywood in its tracks...
And lots, lots more…