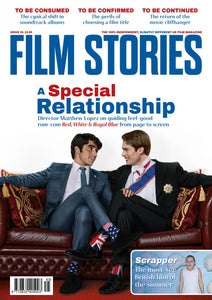 Shipping now.
RED, WHITE & ROYAL BLUE
The story behind the delightful brand new British romcom.

SCRAPPER
A debut feature to savour from director Charlotte Regan - and we go in depth in this 
IT'S IN THE NAME
The perils of choosing a movie title

TO BE CONTINUED
Why has the movie cliffhanger (not a proper noun) returned?

FACING THE MUSIC
How 'dubious' soundtrack albums changed the industry...

QUADS
What's so special about the quad poster?

PETER RICHARDSON
Directing the Comic Strip...

NET ZERO
Is the film industry doing enough?

THE LAST OF SHEILA
The story of a forgotten gem...

And lots, lots more…