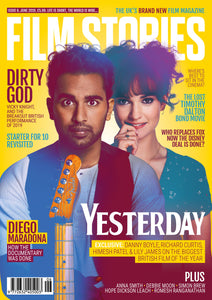 Issue shipping from Tuesday 27th May. And inside it? Well, this little lot...
* Richard Curtis, Danny Boyle. Lily James and Himesh Patel tell Film Stories (well, us, but sound posher if we say it like that) all about Yesterday
* As Disney reduces the number of Fox movies, who fills the gap left behind?
* The life and times of the Hollywood writers' strike - and the impact such strikes had
* Looking back at Starter For 10 - the film that brought Alice Eve, Benedict Cumberbatch and James McAvoy together
* Vicky Knight: Britain's brilliant new acting talent. She and director Sacha Polak tell us about the brilliant Dirty God
* The lost Timothy Dalton James Bond movie
* How cinema deals with the afterlife
* Asif Kapadia on the making of his Diego Maradona documentary
* The last video rental shop in Scotland 
* And much more!