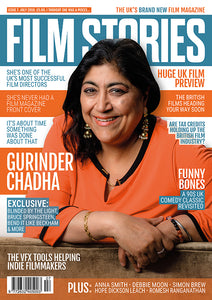 A digital PDF copy of Film Stories Issue 7.
Link will be available after checkout and via email. Link allows two downloads of the PDF file with no time limitation. 
SPECIAL OFFER: Choose the 'Free Copy with Code' option and enter the code 'BLINDED' when checking out, and you can download a special version of the issue for absolutely nothing (we've added a wrap around cover, that's all). Enjoy! 
Inside:
* Gurinder Chadha on Blinded By The Light, Bend It Like Beckham, Bruce Springsteen and the M1 motorway
* Funny Bones: director Peter Chelsom joins us in revisiting a 90s British comedy favourite
* Huge UK movie preview. A round-up of lots of British films, heading your way soon!
* The clever visual effects tools that are helping independent movie makers
* Are tax credits holding up the British film industry artifically?
* Homophobia in sport: how cinema is doing a better job of addressing it than, well, sport is
* When big Hollywood movies went to Russia
And much, much, much more...