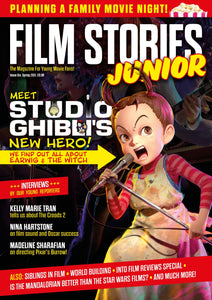 The latest issue of the only regular print film magazine for under 15s - that's also mainly written by them too!
Shipping from March 5th...
In the latest issue...
EXCLUSIVE INTERVIEWS BY OUR YOUNG REPORTERS!
Goro Miyazaki tells us about Studio Ghibli's new hero
Kelly Marie Tran chats to us about The Croods 2 and Star Wars
Nina Hartstone tells us about movie sound and winning an Oscar!
Madeline Sharafian on making the Pixar short film, Burrow
PLUS!
Into Film your reviewers special
Siblings in films
The rules of a family movie night
World building in the movies
Disney and beauty standards
Disney Channel movie recommendations
Wonder Woman 1984 thoughts
The Mandalorian: better than the recent Star Wars films?
You're never too late/early for Christmas movies!
Looking ahead to Cinderella
Writing film reviews
Editing in the movies
And much more!