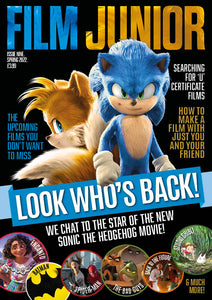 Say hello to the new DIGITAL ISSUE of Film Junior (no. 9 Spring 2022)
You can buy the physical magazine here, if you like.
We're pleased to let you have this Digital version of Film Junior for FREE.

Just use the Code 'Sonic2022' at the checkout. 
Or, you can pay £1.99 – if you can afford it, and would like to help support our efforts to give young film fans a chance to see their work in print.

In the issue: 
The stars of Sonic The Hedgehog 2! 
All about The Bad Guys
Encanto!
Shrek!
Shaolin Soccer!
Being a Script Supervisor! 
Which Spider-Man is the best Spider-Man?!?
LOADS MORE! 
TECHNICALITIES: After checkout, you will be shown a download link straight away, which will also be sent to you via email. This link - which can be forwarded on, if you so wish - will allow two downloads of the PDF version of the magazine from our site.