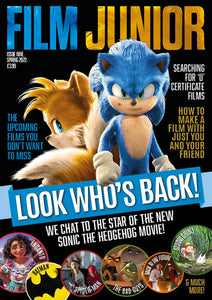 Say hello to the new Film Junior issue 9 (Spring 2022). It's the print film magazine aimed at young film fans - and lots of it is written by them too!
The magazine is aimed at film fans aged 7-14, and the films covered within it are certificates U, PG and 12A.
Inside: 
A big interview with the star of Sonic The Hedgehog 2, as he takes us behind the scenes of the movie.
Is The Bad Guys any good?
The Back To The Future musical – is it as good as the film?
Hidden meanings in Studio Ghibli films
Batman theories!
Putting Spider-Man films against each other
The search for U certificate films
A big preview of upcoming movies
How to make a film with just two people
Going on a film set: what does a script supervisor do?