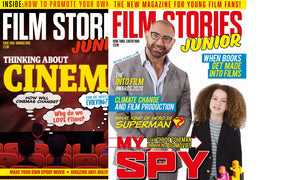 If you're like to buy a pack of Film Stories Junior issues, perhaps to donate to your child's school or a local film club, that we offer a discount pack that includes:
10 x copies of the newest issue (issue 4)
10 x assorted back issues
We're not looking to get rich off Film Stories Junior, just to cover costs. We discount this pack by nearly £30, and offer it for £49.99 including UK delivery, instead of the usual price of £79.80.

We're happy to hold shipping until the new school term starts in September.