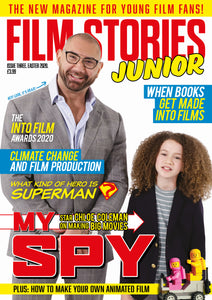 The new issue of Film Stories Junior is shipping from Thursday 12th March - and here's what's inside!
* Our young reporter interviews the young co-star of My Spy, Chloe Coleman
* More young reporters chat to the director of the Sonic The Hedgehog movie
* The Into Film Awards - celebrating lots of brilliant young filmmakers
* Is film production contributing to climate change?
* Do independent cinemas cater for young film fans?
* Just who or what is Superman?
* The joy of Star Wars - and seeing the film on opening night
* Books being made into films
* Why fantasy films matter
* The Future Film Festival
* How to become a young juror
* What does a director do on a film set?
* How to make an animated film

And much more! All in the new issue of FILM STORIES JUNIOR: a film magazine made for - and primarily written by - young film fans.
This will provide a Print Edition of the magazine, which will be delivered to your door.
Enjoy!