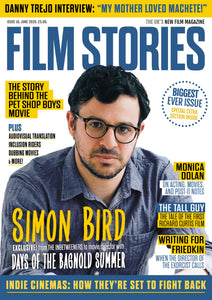 After a slight delay thanks to the current lockdown, Film Stories returns with issue 16. Shipping from the end of May. It's our biggest ever issue, and inside...
Simon Bird exclusive: the story of his feature directorial debut, Days Of The Bagnold Summer
Independent cinemas fighting back: how UK indie moviehouses are coping, and what they're up to next
The story of the Pet Shop Boys movie: by the people who made it
Danny Trejo exclusive: huge interview as he looks back on his life, his career, and the new documentary of his story.
Monica Dolan exclusive: on Bagnold Summer and Post-It notes.
Writing for Friedkin: what happens when the director of The Exorcist wants you to tackle a screenplay?
The Tall Guy: the story of the first film written by Richard Curtis.
Inclusion riders: Hollywood's words are still not being fully met with actions
Dubbing and translation: two pieces looking at bringing international cinema to wider audiences
VHS dealer adverts: the special promotions that the end user rarely got to see
The Syrian film collective: building a new cinema culture
Plus!
SPECIAL EXTRA SECTION: 16 pages of new film writing and memories, exclusively by authors over 70 years old.