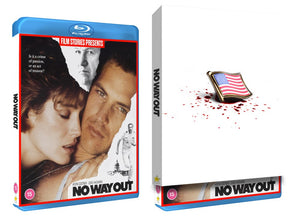 Film Stories is delighted to add our second release to our line of Blu-rays: the UK Blu-ray premiere of No Way Out

Why this film? Well it's hard to tell you too much about it without spoiling it, but here goes. No Way Out is one of the very best thrillers of the 1980s, pairing a then-upcoming Kevin Costner with Gene Hackman, and a terrific breakout performance too from Sean Young. In the words of Film Stories editor Simon Brew...
Directed by Roger Donaldson, No Way Out is a surprisingly erotic thriller. It centres on a murder mystery that goes right to the heart of the Pentagon. Costner's young naval commander has the job of finding the killer, but Hackman's US Secretary Of Defense appears to have some involvement. That's pretty much all you need to know going in, but once the film has played out, you might just want to go right back to really appreciate just how skilfully No Way Out weaves its web....
Shipping from October 23rd 2023.
UPDATE: Slight production delay: shipping from November 10th 2023
Disc details
Cert: 15
Year: 1987
Cat no. PLUM6
Chapters: TBC
Region: B
Picture: 1080p HD
Sound: 5.1 and Stereo Options
Audio Language: English
Subtitles: English
Aspect Ratio: 1.85:1
Disc Format: BD25
SPECIAL FEATURES*
• Audio commentary with director Roger Donaldson
• Exclusive new interview with director Roger Donaldson
• Film Stories podcast with Simon Brew
• English subtitles for the hard of hearing
• 5.1 and stereo audio tracks